Masters Regalia
Someone who works to receive a Master's degree is someone who wants to stand out from the rest. Being a leader in his or her field of study is a result of years of academic effort. The discipline and focus it takes to earn a Master's degree displays strength and character that deserve to be recognized. There's no better time to start than at your graduation ceremony. CapsandGownsToYou.com has the academic regalia you need to honor your new professional status in several models and prices suited for each budget.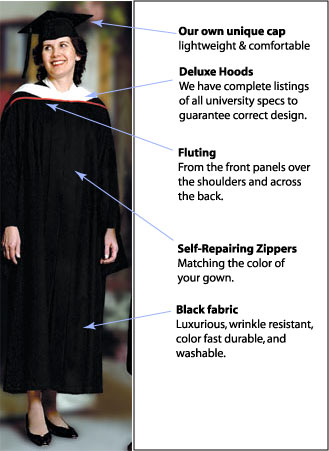 Superior Master's Gown
Fellow graduates and faculty will think you spent over a thousand dollars on custom-made Master's regalia when they see you in this dignified graduation gown.

Our Superior Master's graduation regalia swathes you in elegant, becoming folds of Pilgrim Cloth, a lightweight fabric of the finest quality and workmanship. We have special sizing patterns in stock. That's why we are able to offer custom-made quality at bargain prices to Master's graduates and Faculty everywhere. We can create your graduation gown especially for you, but we don't need to cut each specific pattern piece on demand which effectively lessens our prices substantially. And we'll ship your regalia to you pressed and pret-a-porter, ready-to-wear right out of the box. Because these gowns are made to order, please allow 6-8 weeks for delivery. Need to have a gown on hand right away? CapsandGownsToYou.com can send you a gown to borrow, returnable upon receipt of your Superior Master's regalia.


Pricing For Superior Master's Gowns
1 - 3 Sets
$220.00
4 - 7 Sets
$210.50
8 - 12 Sets
$200.50
13 - 24 Sets
$190.75
25 - 49 Sets
$175.00
50 or more sets
$160.00
Click here
to order now.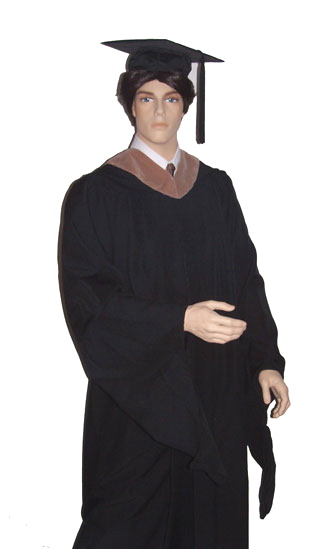 Faculty - Masters' Gown
Our Faculty quality Masters regalia is a lot like the gown you'd rent from a shop. But it looks a lot better and holds up a lot longer! Excellent fabrication and reasonable pricing makes our graduation ceremony masters regalia an optimal choice of faculty regalia that will last for years. Why waste your money on masters graduation regalia rentals you have to pay for repeatedly? You can get your own faculty regalia for a fraction of the price you'd think something of this quality collegiate regalia would cost.

CapsandGownsToYou offers you a Faculty Master's gown with deluxe comfort, quality and design. Two wide front pleats, two smaller side pleats and fluting across the back and shoulders integrate a classically styled aesthetic with lightweight and practically wrinkle-free Pilgrim Cloth for this masters degree regalia - the same fabric as our Superior Gown!

We'll even give you a traditional mortarboard cap and tassel when you order, included in the price of your masters regalia purchase. And our Faculty Quality Masters Gowns are usually in stock, so you don't have to wait. Order your faculty masters regalia from CapsandGownsToYou.com today!


Pricing For Faculty Master's Gowns
1 - 3 Sets
$135.00
4 - 7 Sets
$125.50
8 - 12 Sets
$115.50
13 - 24 Sets
$105.75
25 - 49 Sets
$95.00
50 or more sets
$75.00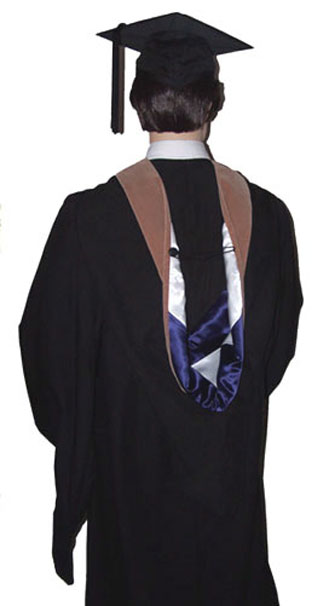 Click here to order now.

Prices shown above are for standard sized gowns. For full figured gowns (plus sizes) please add $20.00 per plus sized gown.

Plus-sizing adds an additional 10 inches of material in the girth, and is custom-made, so please allow 6-8 weeks for delivery.

We recommend Superior hoods for Faculty Quality masters graduation regalia.


Value Gowns
If you have no need of long-lasting graduation regalia and want to save money on a gown rental, CapsandGownsToYou.com has just the right graduation robe for your master's degree graduation ceremony. Though it's designed for one-time use only, this graduation robe is perfect academic master's regalia for the graduate who doesn't intend to go into academia as a profession. It costs about half as much to rent a gown (in many, if not most places) than to buy our master's economy regalia. Our Souvenir Quality Master's Gowns are shirred, meaning the cloth is gathered in parallel stitches at the yoke, across the back and shoulders. The yoke (the part of the pattern that goes over your neck, back and shoulders) is traditionally styled with two wide front pleats and two smaller side pleats. It is unlined, made from a woven polyester and sewn with polyester thread for additional strength and durability. It features the traditional master's sleeve.
Pricing For Value Master's Gown
1 - 3 Sets
$58.50
4 - 12 Sets
$54.00
13 - 24 Sets
$48.50
25 - 49 Sets
$39.75
50 or more Sets
$34.50
Click here to order now.
FACULTY MASTER'S TAMS
Many Master's Degree holders who are faculty members opt for a Master's Faculty Tam, in place of the mortarboard, to show their Faculty Status in graduation. These tams are made similar to our doctoral tam, except that in place of the gold tassel, you would wear it with a black tassel.

When ordering your masters tam, be sure to indicate your hat size or your head size. Using a tape, measure the circumference of your head about an inch over your eyebrow. the size should be in the neighborhood of 22 to 23 1/2 inches. It should be snug but not too tight. Round size to nearest quarter inch.

Master's Tams are available in your choice of 4, 6 or 8 sides.

Cost is $64.50